We were ecstatic to get a camper with a dry bath. I was quite disappointed though, that it came with the dreaded flimsy shower curtain that I came to hate so much in our old wet bath camper. Also, the shower curtain, mounted inside the shower stall, significantly reduces the amount of room in the stall. So, I installed the shower door mentioned in articles on the Bigfoot Owners Club (BOCI), in the dry bath in our 25C10.6 truck camper.

I used the 66" shower screen (part number 17264) from Camping world shown here:
http://www.campingworld.com/browse/skus/index.cfm?skunum=17264


Instructions for the door installation were fairly decent and I would recommend following them especially for the sealer application. The unit attaches with double sided tape so there are no holes to drill.
The door is just a little too tall to fit under the arched top of my shower stall. (It would be great if they made a 64" unit). I used a hacksaw and my 4" stationary belt sander to round the back corners off the tops of the roller and attachment sides of the door.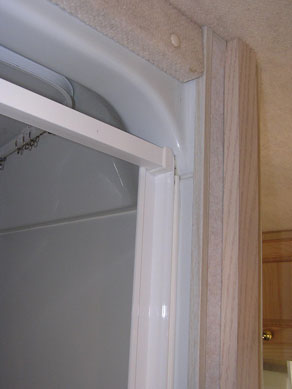 My shower opening was a little bit off in that the arched top did not line up flush with the vertical side of the opening, so I had to add a spacer (See right side picture above). I bought an 8' piece of white plastic molding from Home Depot (see picture below),.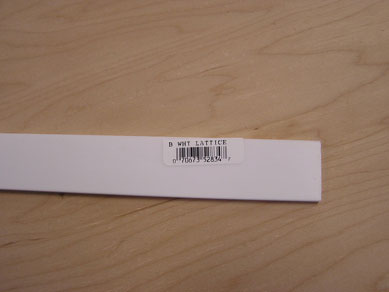 I cut it to length and attached it to the shower opening with double sided tape and then attached the shower door jamb to it using a second layer of double sided tape.
Here is the result, shown open and closed.